Yoga every day keeps the crazy away
I've read enough teacher bios claiming to have "found" yoga, but there are no claims of that sort here. For me, yoga just kind of happened as the result of 'finding' fitness during my freshman year, in an attempt to avoid the freshman 15. I distinctly remember my first yoga class, back when I was a young, naive 18 and at the time I hated it. I wanted to work out not stretch - yes I was one of those, but eventually I discovered the cliche 'There is a style of yoga for everyone'.
Powered by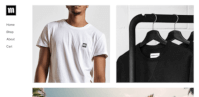 Create your own unique website with customizable templates.