After weeks of training and countless hours sitting in the conference room, it was finally time for us to apply our skills and knowledge to a real world situation. Team green (the not-so-creative name for all Team Leaders) were signed up for a day of service at the Action Center, located in Lakewood CO. The only information we had before arriving was that we'd be helping food and clothing donations which would then be used to support the homeless community and those struggling to make ends meet from the community. I've done work like this on a few previous occasions, but I was not expecting what waited for me at the Action Center. Although they were forced to shut down their shelter services a few years ago due to lack of funding, the Action Center is doing amazing things with the resources they do have.

The Action Center is more than just a food and clothing resale program, they work with the community in an effort to help people get back on their feet, no matter what circumstances led them to where they are today. The organization was founded in 1968, originally called Jeffco Support Inc. and in 1969 added the intervention services, still a main part of the mission today. In 1979 the center added two full-time counseling positions which today has grown to a staff of nearly 50 people. Over the years hundreds of thousands pounds of food and items of clothing have been given away to those in need. After the economic recession in 2008 demand for services jumped 40 percent, and the center currently serves more than 20,000 individuals annually.

In 2011 The Action Center sought and received funds to fully renovate, and thus expanded to a three building facility, giving them more space to organize, sort and distribute supplies. A large part of this renovation was creating a private environment for individuals to meet with counseling staff, allowing for a more intimate experience. Individuals seeking services will be enrolled in the Pathways program which begins with an appointment with counseling staff. The main intention of this meeting is to identify current barriers which are preventing individuals and families from self sufficiency. The Center hopes to address the underlying causes rather than simply distribute a band-aid in the form of food and clothing. Individuals continue to meet with their advocate (counselor) through weekly meetings over a 6 month period.

During their meeting with an advocate a plan is also made regarding how much food / clothing they need, based mainly on family size. Post renovation the Action Center was able to design a self serve grocery store, creating a more welcoming and supportive environment where patrons feel in control. There are guidelines of course, first the recommendation from the advocate but also over arching quantities for everyone. Food distribution is limited to 9 visits per year, while clothing donations max out at 20 items per family member per month. Not only are members given food and clothing, there are also programs set up to help with affordable housing, tax assistance, affordable health care, mailing address and communication assistance as well as shower vouchers for local shelters. The goal of The Action Center is really to get people back on their feet.

When we received a tour of the facility I was most impressed with the self service grocery section, it looked like a mini Trader Joe's, and even had some of the same merchandise. Food of every variety was available, including dietary restriction items for gluten free and vegetarian patrons. The bakery section was over flowing with cookies, cup cakes, a variety of bread, bagels and wraps, the only "problem" being that the items were close to expiration date, however everything I saw on the shelves of the grocery I would have been happy to eat.

Most impressive with the Action Center is that it is reliant solely on donation and volunteer support, but you wouldn't guess that by the look of it and the smoothness of operation. There are a handful of full time staff members at the Action Center, Barbara who we worked with directly retired nearly 10 years ago, or so she thought. It's clear that she now has a passion for the work she is doing and thrives off seeing people get back on their feet. Walking through the center you'll see many other people working, but almost all of these are volunteers, sorting donations, running the grocery store and clothing area.

As far as the materials distributed these also come in the form of donations. Clothing is dropped off daily from people in the community, similar to Goodwill or Salvation Army people from the community drop of new or gently used clothing, shoes and household goods. When we arrived to sort there was a mountain of donations in the corner of the room waiting to be sorted; nice that they had such a surplus but shows just how much they need hands on help in the center. As for food donations, the Action Center partners with local grocery stores in a food rescue effort, packing up and shipping food that would otherwise end up in dumpsters. Food regulation is so tight in the grocery industry that tons of perfectly edible food is thrown away daily, a few bruises or past "sell by" date, but still perfectly safe to eat.

On top of the previously mentioned services The Action Center also hosts seasonal activities. Every year they supply school supplies to children in need, hoping to set them up for a fresh start to the school year. This is followed a few months later with a Thanksgiving event and toy drive for Christmas. The toy drive provided gifts to nearly 4000 kids, hoping to bring some Christmas cheer. Their other large annual event is the "Beautiful Junk Event" which is a huge yard sale, the funds of which go to supporting the other lines of service The Action Center provides.
Powered by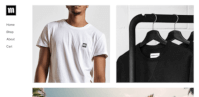 Create your own unique website with customizable templates.