I leave for Colorado in 2 1/2 days and I'm exactly 0% prepared, both mentally and physically. This happens pretty much every time I transition into a new position, country, community, or anything really. I kind of just sign up for the adventure and then flip-flop back and forth between "I can't wait it's going to be amazing" and "What the hell was I thinking?" for a few months, and then BAM it's time to go. So, once again, here I am, one packing list in a random notebook, flight booked and 2 days to get it all together.

The thing is, I've done this routine so many times now that I have no doubts that everything will fall into place. Actually this move should be much easier than my past few, I mean I'm staying in the same country, I'll have the same working phone the whole time, a measly 2 hour time difference, and should I forget ANYTHING, Amazon has me covered. I'm kind of banking on the idea of throwing a few things in my travel backpack and getting on my flight, I don't want to sound too unconcerned, but I'm pretty sure this will work. ​

---

The only preparations I have made thus far is occasionally checking out posts by fellow Team Leaders and some of the hundreds of team members I'll be partially in charge of over the coming months. The staff in Aurora has put together a Facebook page for everyone which is both a blessing and a nightmare. It's cool to organize everyone, get people talking and having a forum to ask questions, but the obvious downside to that is some people, when given the opportunity, feel that they MUST ask something, anything. To be quite honest this page has provided me with some free entertainment over the last few weeks, until I realize I'll be the person answering them in a few weeks, then I just want to crawl into a hole and hide.

All joking aside, I leave in two days and I still don't know exactly how I feel about that. In the beginning it was all excitement, headed to Denver, traveling around the Southwestern USA, meeting new people, getting paid, learning, new experiences and skills, etc etc. Now there's a bit of apprehension, and you guessed it, mostly due to the realization that I'll also have responsibilities and more importantly have to work around other people's schedules and follow orders. News flash, I'm not used to that - solo travel, living alone, and more solo travel, yeah I'm in for a bit of a lifestyle change. ​

I'm ready for it though, as one of my friends just said to me, "It seems like Korea is your default" and he's right, it's been my safety blanket for the last few years. A place still foreign to all of my friends and family, but growing more and more comfortable to me. Hell, that's how I even wound up in this position, I was growing a little bored during my last stint over there and decided to throw a line in another direction, I just didn't think it would catch. But it did, and now here I am, two days away from throwing myself head first into another new pond, new experiences, challenges, people and places. While it may not look like I'm ready for it, nothing packed, a messy room and a miss mosh of 'Goodbye' plans over the next few days, somewhere deep inside I'm 100% prepared.
Powered by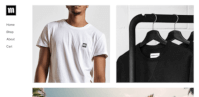 Create your own unique website with customizable templates.