Aside from all of the lectures, power points, discussions and team builders we did have a few opportunities to get out of the 'classroom'. Our first weekend together the unit assistance had helped to set up a service day for all of the corps members. It was both a good opportunity to get off campus and also get to know our corps members in a different environment. Water and Fire units were headed downtown to work on flower bed removal and mulching while Earth unit traveled only a few miles from campus to Planes Conservation Center to help them with a few different projects. The specifics of the day weren't 100 percent clear before we had left campus, but we were prepared for whatever they threw at us.

During CTI we were changing our temporary teams pretty frequently; having just been handed a new group the Friday before our project I wasn't sure how our team dynamic would work out and I knew I had at least one I'd have to prod along. When we arrived at the Planes Center we were welcomed by three staff members, all grateful for the extra hands for the day. There were four projects laid out for us; tearing down a wall of sod, mixing sod, painting an outhouse and digging up old farm equipment that had sunk into the ground. My group, along with Earth 5 was assigned to tearing down the sod wall which sounded like fun, until I realized how much work it actually entailed.

We were handed a pile of shovels, pic axes and wheelbarrows and told to go to work. Fortunately we had numerous strong hands on our team and the first two hours of work went pretty smooth. Demolish the wall, shovel it into a wheel barrow and dump it into the pick up. We worked well as a team of 20, avoiding injury and stepping in where needed helping each other out, what finally got to us though was the physical aspect of th work. Even some of our strongest members were feeling defeated as we kept working but the wall didn't seem to be going anywhere. On top of that once the sun comes out in Colorado the temperature spikes and we were all feeling it. I was proud of my team though, we plugged away at the wall, taking turns for water and rest breaks and finally tore the whole thing down, and just in time. We were only scheduled to be at the Conservation Center until 12:30 and we wrapped up our work just in time.


Had we finished sooner we would have rebuilt the sod wall with the fresh piles of sod waiting for us, but that was just a bit more ambitious than we had time for. Given the whole day we definitely could have finished it, but a half day was not enough, no one was jumping to stick around though. We were all ready to head back to campus for lunch, showers and naps. It was a great first service day for me, gaining exposure to real world team management experience, getting off my butt for a few hours and interacting with my corps members on a different level.
​
A few weeks later we were back in the vans, this time with much cooler temperatures and the forecast of rain, heading downtown to mulch and rake leaves. Two teams from the Earth Unit were scheduled to help the Denver Parks and Rec at Centennial Gardens downtown Denver. I didn't realize until we had arrived and were knee deep in piles of leaves that I had visited this park a few weeks prior when my friend Mike was in visiting from Minnesota. Our task for the day was to clean up the walking path running along the park, raking and bagging leaves and then spreading fibar under the bench area. The work was much easier (physically) than our previous task at Plains Conservation Center, but it was still a long day.

The perks of being placed downtown Denver was our proximity to Union Station, meaning food and drink options outside of our packed lunches. As our team broke for lunch I looked up and spotted an unmistakable noodle bowl marking a Japanese ramen restaurant, across the road. As soon as I mentioned it I quickly had a few followers; we abandoned our packed lunches, forked over a handful of money and relished in our hot steamy bowls of ramen, perfect for the cold cloudy conditions we had been working in.

As the work was a bit easier this day we had more time for conversation which meant I was able to connect more with corps members I previously didn't get much of a chance to talk to. We shared stories from hometowns, similar travel experiences, high school and college life (a bit more distant for me than the others) among various other topics. The timing of these conversations was key as upon returning from our day of service the team leaders gathered for team picks, selecting which 10 individuals we'd be spending the following six weeks with.
Powered by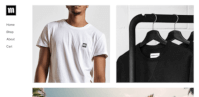 Create your own unique website with customizable templates.