I've officially been in Denver for 10 days and per usual it already feels as though it has been MUCH longer. From the moment I exited the arrivals hall at DIA - Denver International Airport I have been in constant, go mode. Tonight it's all finally hitting me, which means a Saturday night of laundry, blogging and binge drama watching, all of which I am totally okay with. It's 8:30 and I feel like I could go to bed, but to be fair I was up at 7 for a day at the high ropes course and team building, but more on that later.

Our first afternoon was spent getting to know each other, at which I quickly realized I'm most definitely the oldest one here, not that it matters much. In total there are 27 of us here for training, roughly 10 of which are returning from having served as a Corps member last year. I most definitely felt out of the loop in the first few days while others reminisced about last year, but those feelings didn't last long and everyone has been getting along great. Honestly, I'm impressed with myself at just how social I have been, always joining the group rather than finding some along space, except for my a.m. yoga sessions, those are kind of non-negotiable.

Campus is pretty basic, cafeteria/kitchen, gym (think middle school PE class), a few conference rooms and dorms. As team leaders are rooms are upstairs, a bit removed from the rest of it all, which I'm sure will be much more appreciated when the 242 Corps members get here in a few weeks. I've really enjoyed getting to know everyone, where they're from, why they're here and some of their other past experiences, but I can't quite say the same for all of the time spent sitting in the conference room. Aside from our 9 - 5 training schedule we're also expected to cook for the rest of the team once a week, and let me tell you cooking for 30 takes much longer than cooking for yourself. On top of all that we're also asked (expected/required?) to do group PT (physical training) three times per week. Our first experience with that was a team kickball game, something that required very little physical activity on my part, walking from the sideline to my spot in the outfield and back a few times. I enjoy physical activity but team sports are not my bag, hope the team enjoys when we all do yoga together ;)

I mean, I'm sure the content they're flooding us with is really important and will very likely come in handy at a later point, but these days are long. We've covered (or will cover) everything from handbook guidelines to emergency response, team building, leadership, service learning, you name it and I be we have or will do it. This week we had two days with a little more excitement though, CPR and first-aid training last Thursday and a small service project yesterday. It was nice to get out of the conference room and move around a bit, but I really do need to work on my whole "taking things seriously" attitude. The online portion of the CPR training was a joke, watching a cartoon seize on screen is never easy, and the number of times I was asked "How I felt" yesterday drove my eyeballs into the back of my head they rolled so much. Bad attitude aside though, I'm learning a ton and the staff here is doing a great job of preparing us of what is yet to come.

On that note I have to say more about the staff, as if the work and experiences we're doing here isn't cool enough, the people I am surrounded by add another level to it all. While I'm the oldest Team Leader, all of my peers are such interesting people, with backgrounds of unique experiences and cool plans for the future. Our campus is also home to about 10 other staff members, all working behind the scenes throughout the year, and also bringing their own flare. Almost all of spent some time abroad with a number being returned Peace Corps volunteers, you'd be right if you guessed that has sent my wheels spinning.


I plan to write in more detail about some of the stuff we've been doing, service projects, weekends trips to Denver and definitely today's high ropes course experience, but I also don't want to turn this into a 50 page novel. Hopefully I'll carve out some free time to update regularly, although with the way things are going that doesn't look to be a guarantee. It's still crazy to me I haven't even been here 2 weeks, my half of the room already feels like home and my companions like old friends. Fingers crossed the year continues in a similar fashion, avoiding any hick-ups along the way.
Powered by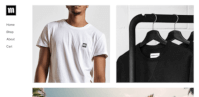 Create your own unique website with customizable templates.